About Us
---
Spasmodic Torticollis Recovery Clinic, Inc.
Founded 1986
We offer a natural physical therapy program of ST-targeted exercise, massage and nutritional guidelines all designed to get to the root of the problem and over time eliminate the symptoms of Spasmodic Torticollis.
Founder and Director:
Abigail Brown (Collins)
S.T.R.C., Inc. Board of Directors
Abigail Brown (Collins), President
Christina Stolz, Licensed R.N. sect./treas.
Laurie Garner, Licensed Physical Therapist
Cindy Russell, Nutritional Consultant
Lezlie King, Nutritional Consultant
Director's History
Abigail Brown, Director S.T.R.C., Inc. (since 1986)
B.S. Univ. of Wisconsin
M.A. San Francisco State
Teacher of the Deaf and Hard of Hearing for 11 years
Featured Speaker: 1993 National NSTA Symposium
1997 ST/Dystonia, Inc. Symposium, Wisconsin Dells, WI
1998 ST/Dystonia, Inc. Symposium, Toledo, Ohio
1999 ST/Dystonia, Inc. Symposium, Richmond, VA (Oct. 22-24)
2000 ST/Dystonia, Inc. Symposium Boloxi, MS
2001 ST/Dystonia, Inc. Symposium, San Antonio, TX.
2005 ST/Dystonia, Inc. Symposium, Albuquerque, NM
2011 ST/Dystonia Symposium, Colorado Springs, CO
Contact Information:
Mailing Address:
S.T.R.C.,Inc.
P.O. Box 86
Ranchos De Taos,  NM 87557                                                                                                                                                                                               Phone:  (575) 737-1144  (MST)
EMAIL: [email protected]
We answer ALL emails. If you do not receive an answer within 24 to 48 hours,
please call the Clinic at (575) 737-1144  (MST)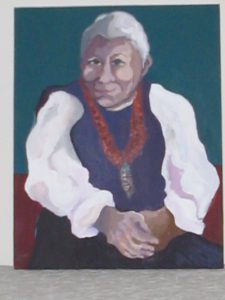 Acrylic of Santa Clara Pueblo Potter on board – by Abigail Brown
S.T.R.C. Mission Statement
S.T.R.C. provides natural, non-medical, individualized education and therapy  for people suffering
with Spasmodic Torticollis/Cervical Dystonia globally. (ST/CD)
S.T.R.C. Vision
Our vision is to establish new clinics nationally and globally offering people the option of choosing a natural recovery program that will accommodate the cultural and linguistic needs of the hundreds of thousands of people afflicted with Spasmodic Torticollis/Cervical Dystonia.
S.T.R.C. Purpose
Our purpose at S.T.R.C is to offer clients a clear, structured program, empowering them to achieve a state of ongoing recovery from the symptoms of Spasmodic Torticollis; there is no cure for this disorder, but, via this program, it is possible to drive the symptoms into permanent dormancy and live a normal life once again. Clients will experience here a professional, knowledgeable staff, that has the empathy, compassion and true understanding of this disorder and what it takes to address every need, physical, emotional and spiritual, in a warm, inviting secure environment where we work with clients one-on-one and then stay in close contact with them via phone and email until they no longer need our help.
This program involves a  combination of ST-specific exercises and massage, along with nutritional guidelines and emotional, attitudinal work. This program is carefully tailored to each client's individual need. The reality of psychoneuroimmunology (the mind-body-emotion connection) is at the center of this program, as the severity of the spasms and terrible pain associated with ST is often generated and exacerbated by stress. Clients with ST have so few choices; they can take a conglomeration of drugs, all of which have serious side effects, or they can opt for surgery, which is always risky,   often ineffective and can actually make the condition worse, or they can attend this clinic, apply the principals they learn here and achieve recovery from the symptoms and the
restoration of a normal life.